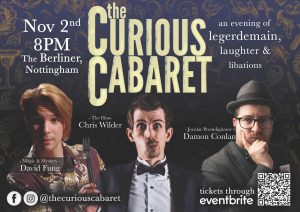 The Curious Cabaret – Nottingham Show
The Curious Cabaret is Nottingham's monthly magical extravaganza. It features a curated lineup of magicians of every style. This November, David Fung will share magic and mystery in a special act. Host Chris Wilder is joined by Damon Conlan and David. What's more, the performance and specific lineup are available for one night only.
David's shows in Norwich have included Mystery and The Stabbed Card. But this is his first time in a long time performing in a public show again in Nottingham.
The Berliner Bar in Nottingham hosts several magic events per month produced by the amazing Chris Wilder. Have a drink, have a laugh and enjoy some amazing magic – in person again.
From David:
"It's genuinely brilliant to be returning to Nottingham. March 2020… you'll remember exactly what you were doing. I packed my case and was ready to travel the following day to perform in The Curious Cabaret. Unfortunately, that was the first mishap in a very long and gruelling eighteen months that followed.
I previously spent an important part of my life in Nottingham. So I'm excited to be able to return. I'm older, transformed, and look forward to sharing the new parts of me and my work. In addition I'll meet a new audience, new friends, and friends from years before."
From the organiser:
"Each month, the Curious Cabaret showcases different magicians from around the UK. Each excels in their areas of magical expertise. They demonstrate feats of mind reading, sleight of hand, and illusion.
The show lasts 2 hours, including a 20 minute interval and is designed for adults. However children aged 14 and up may attend provided they are accompanied by a guardian.
Throughout the evening you can expect to be amazed and astounded. What's more, enjoy fits of laughter, and find yourself asking 'how'?"
Event Details – November Curious Cabaret
Date: Tuesday 2nd November 2021
Time: 8.00pm
Venue: The Berliner, 6 High Road, Beeston, NG9 4AE
More information: https://www.facebook.com/thecuriouscabaret/