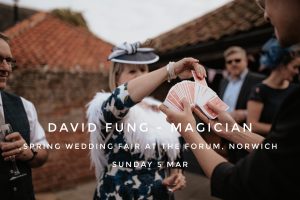 Norwich Wedding Fair – Spring
This Norwich Wedding Fair is one of the best and right in the centre of the city. So come to meet David and many other suppliers and chat about your wedding day plans. Because it's in person, it's the best way to meet and experience the amazing services on offer to help your make your day special.
From David:
"I love sharing magic at weddings because they bring people together from all across the country, or even the world, in celebration. That's why it's a great privilege to be able to help couples celebrate their special day with loved ones adding even more magic to the proceedings.
The magic I perform at weddings is a fun and engaging way to bring people together. Because it's close-up and interactive, with tricks performed right in the hands of guests, magic is sure to get people talking and leave them with long lasting memories.
It also adds excitement to the day and helps to create a unique and memorable experience for all of your guests."
Magical Wedding Entertainment
Magic entertainment at a wedding is the perfect way to keep guests entertained throughout the day. Whether it's before or after the ceremony, reception, or during the breaks between events, magic entertainment provides a unique and memorable experience for guests.
Not only does David help to add extra excitement to the day, but his close-up performances can also help to fill gaps in the schedule. Magic can help to keep guests engaged and entertained during a long day of celebration. What's more, it's a great way to keep adults and children alike occupied and engaged in the festivities.
Magic entertainment helps to break up the day and create a truly memorable experience for all of your guests. With David, you can be sure that your guests will be mesmerized and entertained throughout the day.
From the Organiser:
"Join us at this unmissable city centre wedding fair at The Forum in Norwich.
Let us help you to plan your wedding from beginning to end with some fabulous wedding suppliers from across the region. From wedding venues to photographers, entertainment to catering options and much much more! Pop the date in your diary!"
MJR Events
Event Details – Norwich Wedding Fair
Date: Sunday 5th March 2023
Time: 10am – 3pm
Venue: The Forum, Millennium Plain, Norwich, NR2 1TF