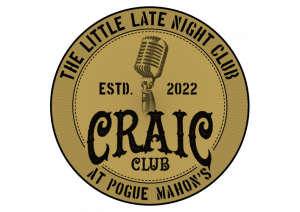 Craic Club at Pogue Mahon's
Pogue Mahon's is a great Irish Bar right on Prince of Wales Road in Norwich near the station. Recently they opened a basement speakeasy with amazing cabaret acts on Friday and Saturday nights.
For two nights in May, David will perform his magic act during the late evening for those with the special password to enter the incredible space.
From David:
"I'm thrilled to be performing at the Craic Club (in the 'Craic Cabaret' as I'm calling it). When the owner, Aidan, invited me in to look at the space, I was really excited that such a vision existed so close to home.
It's really magical, with typical red cabaret walls, armchairs, low ceilings and a small stage close enough to reach out to the audience from. Just what I love for sharing intimate magical experiences.
Come along on Friday 20th and Saturday 21st May and hopefully more dates after that."
From the organiser:
"CRAIC CLUB – THE LITTLE LATE NIGHT CLUB
Every Friday and Saturday evening we present a late night cabaret or nightclub for our discerning clientele. Entry to our late night club requires a secret password and is only for those over 30 years old.
Spaces are limited and in high demand. To book your table, please call on 01603 614077."
Event Details – Pogue Mahon's Craic Club
Dates: Friday 20th May & Saturday 21st May 2022
Time: 9.00pm onwards
Venue: Pogue Mahon's Irish Bar & Speakeasy, 72 Prince of Wales Road, Norwich NR1 1LT
More information: https://poguemahons.co.uk/craic-club/