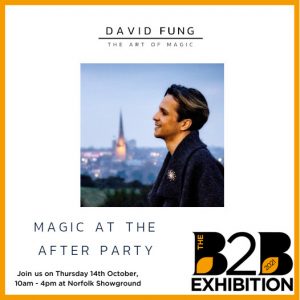 The Norfolk Chamber B2B Exhibition is one of the highlights of the local Norwich and Norfolk events scene. Local Norwich and Norfolk businesses will come together in order to network, exhibit and meet.
This year David has the pleasure of entertaining at the after-party. This is where exhibitors and VIP guests can meet over a few cocktails at the end of the day. After a long day, winding down, chatting and enjoying some close-up magic.
Last year had very few events and few face-to-face business networking opportunities. Therefore the event is sure to provide a lot of meaningful conversations and reunions. Each year, and throughout the year, The Norfolk Chamber of Commerce organise a whole calendar of events allowing Norfolk businesses to get together and collaborate.
The Norfolk Chamber of Commerce – B2B Exibition
From David: "I've been a member of The Norfolk Chamber of Commerce for a few years. I've loved the connections with other local businesses and the opportunities it's brought. Working locally also has all kinds of benefits, most of all as an individual living and working as a member of the community.
It's a privilege to have been asked to be a part of the event this year, and to entertain at the after party. So I'm really looking forward to sharing some magic in the evening. I also can't wait to meet friends, colleagues and acquaintances in the afternoon who I've not seen during lockdowns."
From the organiser:
"Norfolk's leading business to business showcase returns on Thursday 14 October 2021 at Norfolk Showground
The B2B Exhibition is Norfolk's largest business-to-business exhibition. Free to attend and attracting hundreds of businesses on the day, B2B is a highlight on the Norfolk events calendar.
Alongside an exhibition of amazing businesses, you can also attend free business workshops, our Knowledge Hub where you can access business know-how from business specialists, and speed networking sessions will be running throughout the day."
Event Details
Date: Thursday, 14 October 2021
Time: 10:00 to 16:00
Venue: Norfolk Showground, Dereham Rd, Norwich, NR5 0TT
More information: https://www.norfolkchamber.co.uk/b2b